One of the biggest perks of being a jewelry designer is the ability to create killer accessories for any outfit. If I see a dress that I'm dying over and can't stop daydreaming about, not only can I treat myself to it, but I can also create handmade one-of-a-kind jewelry to go with it. No need to shop around, find something that's in my style, compare prices, hem-and-haw...I can just sit down and make it myself. Your friends and family can all be jealous, it's ok.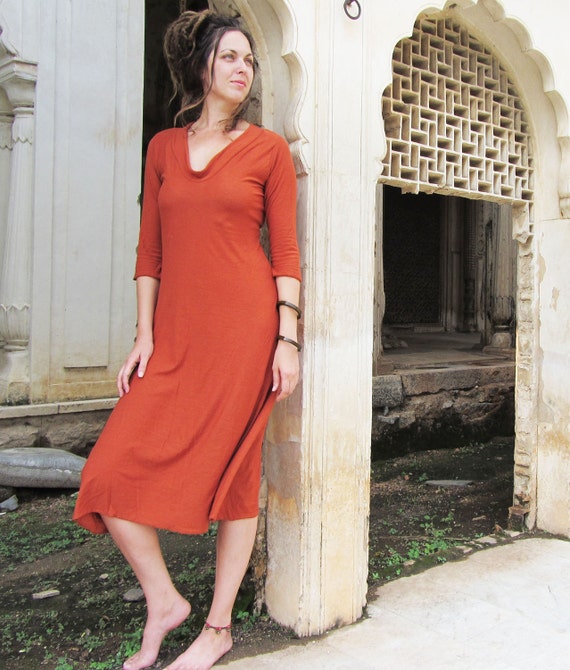 Over the years, one of my favorite Etsy clothing designers has been Gaia Conceptions. Andrea makes "eco chic apparel for the global nomad" using "certified organic and sustainable fabrics which have inspired simple, timeless, and ethical designs rooted in comfort and multifunction". Love? Love. I've got quite a few of her skirts and dresses and find myself wearing them all the time, including this one.
I've been experimenting with creating bezel-set stone earrings in sterling silver lately. Up until now I've just been making rings, but I'm now starting to branch out and create these designs for ears, not just fingers.
These picasso jasper stones went perfectly with the rusty orange of my dress, plus added some summery sage green and magenta - they remind me of a sunset in the desert. Simple, organic, full of energy and color, yet not overwhelming.
Sometimes I end up listing the jewelry I make for myself, and sometimes it ends up on the ~MINE~ jewelry stand. Hey, we've got to pay ourselves every now and then, right? :)
Happy Mid-week!
Nikki
LoveRoot on Etsy