To tell you the truth , I did not have anything prepared for today . The earrings I was making for this blog post are still sitting half made on my studio work table.
This has been a week and a half . And I have a lot of things to be grateful for.
My cousin and her kids lost everything in a house fire . The house was totally destroyed.
Thank God they all made it out alive . I held a sale in my Etsy shop to help her out .I can't imagine loosing everything . My family and I can not thank you enough for your prayers and support.
Blessings to all of you.
So for todays post I am bringing back some of my favorite designs to share with you.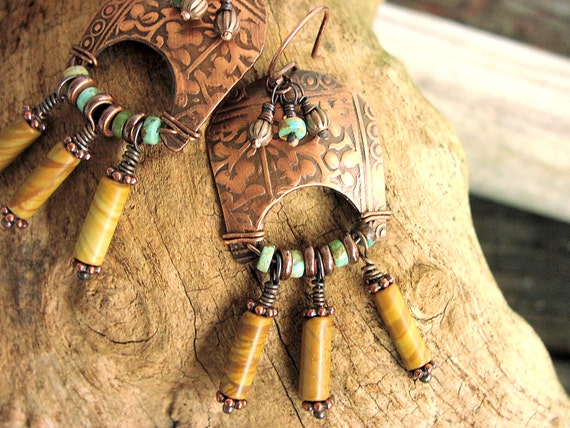 I am sure that those of you that read this blog on a regular basis know who made these gorgeous copper roman shield components. Even before I was invited to join the bead chat group. I fell in love with Melinda Orr's beautiful work. The detail in her work is amazing.
I paired her copper shields with Campo Frio Turquoise mined in Mexico , wood jasper and simple copper spacers.
A simple and casual design that goes so well with this trendy bohemian outfit.
Mojowoman Jewelry